Step 1:


Head to Employer > details.
Before you can file RTI submissions from Clear Books you need to enter your correct PAYE reference and Accounts office reference. If you are a larger employer with access to the BACS field, you should also note the sort code of the bank account you will make BACS payments from.
The accounts office reference is of 13 digits' length, in the format 123AB12345678. The PAYE reference is somewhat shorter, but has no defined format. These references can be obtained from correspondence with HMRC.
Step 2:
Next head to the Settings > General  menu.
Update the payday for each payroll frequency operated - monthly, weekly, fortnightly, 4 weekly, quarterly and annually.
If you pay employees on the 31st, 30th or 29th day of the month, or on no fixed day of the month, you can enter the payment date by manually running the payroll for each employee and editing the payment date field.



Step 3:
Head to Employees > view and click the employee name. Run through the check list below to make sure all employee details are up to date:
Check spelling of names to official documentation such as passport, driving licenses, birth certificates, deed polls, or HMRC correspondence.
Only first two forenames are submitted to HMRC.
Clear Books doesn't support the use of initials.
National insurance number - fixed format AB123456A (check for valid prefixes here.
Gender
Date of birth - check to official documentation
Working hours
Irregular employment indicator



Step 4:


An FPS needs to be submitted on or before every pay day, after you have run the payroll.

At the bottom of every pay run is a link stating the number of employees with for which an FPS needs to be made.

Clicking on this link will take you to the review submission page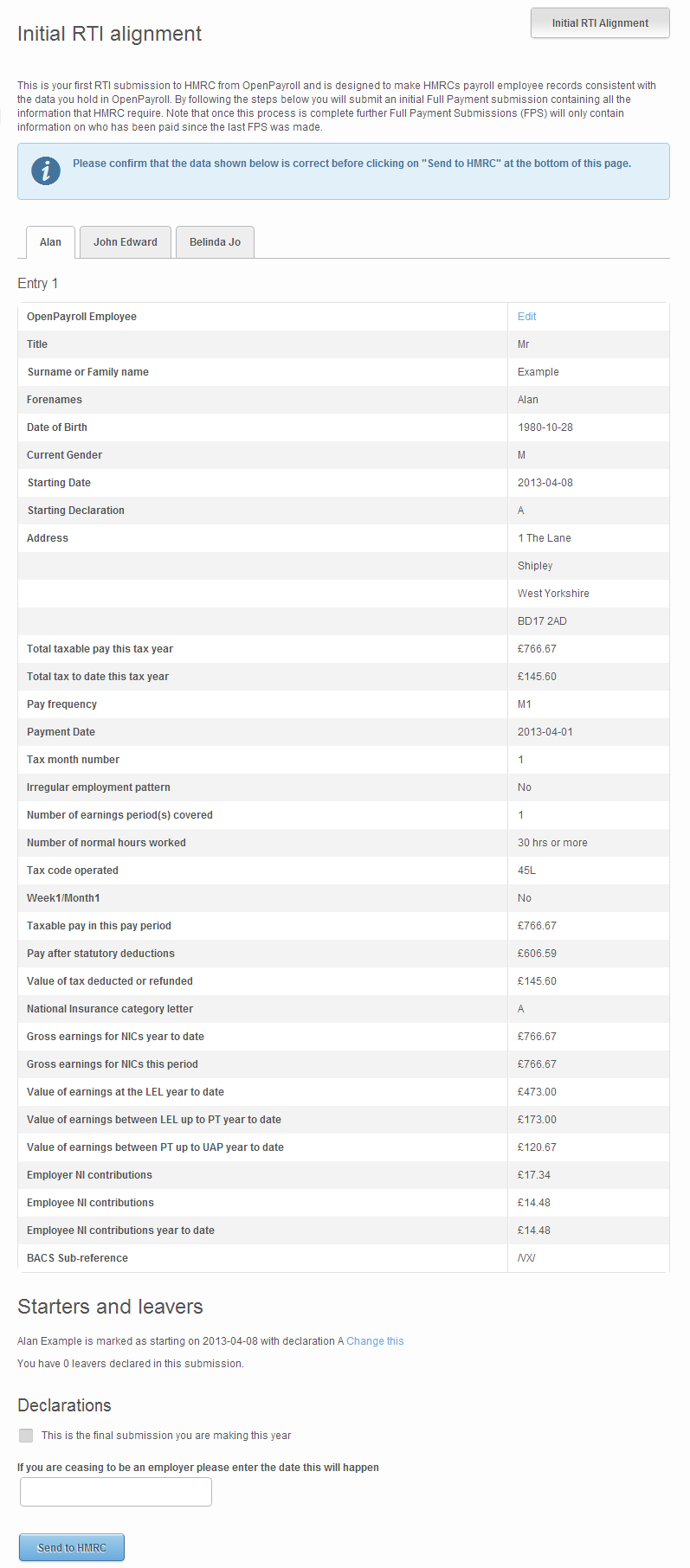 Any starter and leaver information will be automatically picked up - you can change the leaving and starting date at this stage by clicking on the link
You should carefully review all information before clicking on the Send to HMRC button.
You will be notified if there are any errors which have led to your submission being rejected; otherwise you should see this screen: -


Reviewing and filing EPS
If the amount of deductions you will pay HMRC is less than the total deducted from employees' pay due to the following: -
Statutory maternity pay
Statutory paternity / advanced statutory paternity pay
CIS deductions
Or to specify a period of inactivity during which no submissions will be made you will need to file an EPS.
Currently Open Payroll doesn't support other adjustments.
EPS submissions are filed from Employer > RTI