Once you have set up the Employer and Employee details in Payroll, you can proceed to process the employee pay.
How to add an employee/director in Payroll
If you need to apply any additional payments or deductions both pre or post tax, then you will need to process the employee individually.
If you have no additional payments or deductions to apply to any employees then you can process the employees in bulk. 
Process pay per employee
Navigate Payroll > Period > [and your frequency] select the appropriate date using the date filters and click the 'Process' link on the row of the employee you wish to process.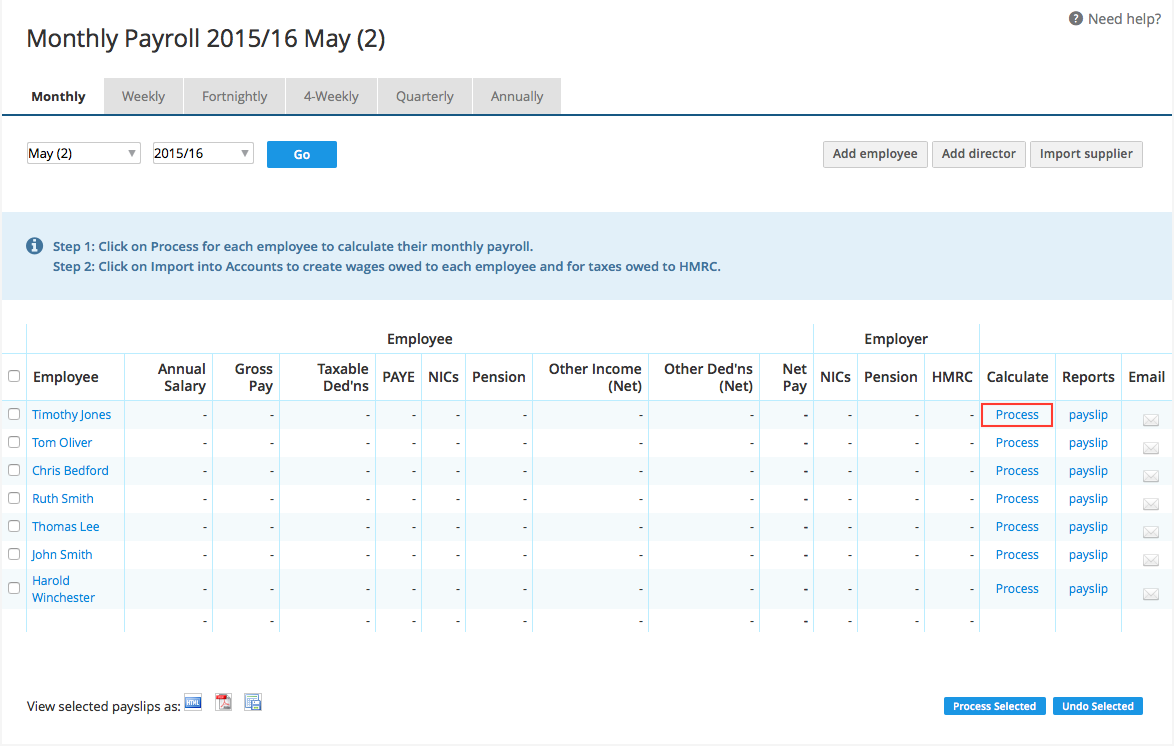 The pay form will fill the employee tax code and salary based on the details of the employee, use the 'Edit Details' button if you need to make any changes.
The default payday can be updated on the Settings > General menu.
Make sure the basic pay is correct, if the employee started (or left) mid-period then the pay will pro-rata. 
Click on the appropriate button to add in any pre-tax payments.
Click on the 'Add deduction' button to enter the details of any pre-tax deductions the employee may have.
The gross and net pay will calculate below the pre-tax payments.
For tax-exempt payments and deductions, click on 'Add Post-Tax Payments' or 'Add Post-Tax Deductions' as required.

Total pay and taxes for year to date will appear in the 'Previous totals to date' box.
If you have entered a pension for the employee this will default in the 'Pension' box. 
How to assign a pension scheme to an employee
Select the 'Automatically email payslip to employee' check box if the payslip is to be sent automatically on the date provided in the 'Email date' field.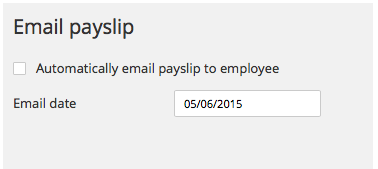 Once you are finished, click the Complete button. 
Process pay in bulk
Navigate Payroll > Period > [and your frequency] select the appropriate date using the date filters. Tick the check box in the column header to select all the employees or tick the check boxes beside each employee to select specific employees.
Press the 'Process Selected' button to calculate the wages for the selected employees.