To submit a VAT return as a business via Clear Books, you must first appoint Clear Books as an Agent in the Government Gateway.
In total, the online steps take about 20 minutes, however, in some cases, an activation code might need to be sent to you by post, which can take a few days.
Once you have completed this process, the guide will then show you how to submit the return within Clear Books.
Appointing Clear Books as the Agent
Step 1.
Registering with the Government Gateway
HMRC use a shared login system with other government departments called the Government Gateway. If you don't already have an account you will need to sign up to get one. This will allow you to access various government services, including the range of HMRC online services such as online VAT returns.
Choose "individual" if you are a self-employed business.
Choose "organisation" if your business is a partnership or limited company.
You then have to fill out a short form giving your business name, an e-mail address and a password. NB: make note of the password as it's not easy to change this later! Once you submit the form you will be given a user ID, which is a 12 digit number. Record this somewhere safe along with your password.
Step 2.
Enrolling for the VAT Returns Service
You will need your VAT Registration Certificate, and your most recent VAT return to complete this step.
Login to the Government Gateway if you are not already logged in, then click through to the "Your Services" page.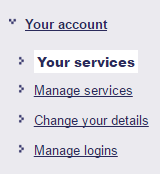 Click on the "Submit VAT returns" link.
It will ask you to fill out your VAT number, the postcode where your VAT returns are sent (or the one listed on your VAT Registration Certificate), the Effective Date (as shown on your VAT registration certificate), the month of your last VAT return, and the last net VAT due on that return.
The service may be activated straight away, or it may require you to enter an activation code that will be sent out by post.
Step 3.
Appointing Clear Books as your VAT and ECSL Agent
(please note that some references below may change as HMRC develop their systems)
Clear Books is a registered VAT Agent, which allows us to submit returns on behalf of other companies. In order to give us permission to submit returns for you, you need to appoint us as an agent. This can be done online via the Government Gateway.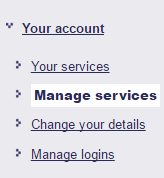 Click "Appoint Agent" (to the right of the New VAT Returns service).
Enter our Agent ID: clearbooks-MKSMH2GFG21S
You must then agree to some terms and conditions, and re-enter your login details to complete the process.
Step 4.
Set up a Direct Debit and E-mail Notifications with HMRC for VAT submissions.
If you file your VAT returns online, the easiest way to pay is by direct debit. This way you won't need to put a cheque in the post, or do a manual bank transfer. You can do this on HMRC's website. You can also set up e-mail notifications so that you get sent reminders when your VAT return is due.
Navigate to http://www.hmrc.gov.uk/
Click "VAT Online".
Log in with your Government Gateway ID.
Specify your e-mail address on the main page. You will be e-mailed an activation code to enter to confirm the address is valid.
Click through to the "VAT Online Service".
You can then set up a Direct Debit, and also the e-mail address used for VAT notifications.
Submitting a VAT Return in Clear Books
Step 1.
Navigate to the Settings > Configure system > Toggle Features menu 
and click on the VAT & bank import tool tab in the box on the left.
Step 2. 
Enable the Online VAT filling option by ticking the check box.
Step 3.
Navigate to the Reports > Popular reports > VAT return menu.

Step 4. 
If you haven't created a return yet please click here to find out more.
If you have created your return already click on the return name from within the Existing VAT returns list, and click on the Submit to HMRC button.
Please note: Contact our support team - support@clearbooks.co.uk - should you wish to delete a return electronically submitted via Clear Books.
Creating a VAT return on a Custom Tax scheme is not currently supported.
---
For additional help, click here to view all our training options.
Technical support is available on Monday to Friday from 9 - 5. You can call us on 0203 475 4744 or email us at support@clearbooks.co.uk.

Alternatively, visit our Community to view our latest news & updates, raise new ideas, find answers to common problems, ask new queries and speak to other Clear Books users and employees.