Clear Books is a registered CIS Agent, which allows us to verify subcontractors via HMRC. In order to give us permission to verify subcontractors for you, you need to appoint us as an agent. This can be done online via the Government Gateway.
For more help from HMRC please see the CIS FAQs.
Step 1.
Login to the Government Gateway.
Step 2.
Click "Manage Services".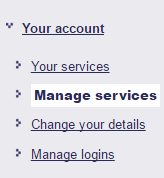 Step 3.
Click "Appoint Agent" (to the right of the CIS service).
Step 4.
Enter our Agent ID: clearbooks-MKSMH2GFG21S
Step 5.
You must then agree to some terms and conditions, and re-enter your login details to complete the process.
---
For additional help, click here to view all our training options.
Technical support is available on Monday to Friday from 9 - 5. You can call us on 0203 475 4744 or email us at support@clearbooks.co.uk.

Alternatively, visit our Community to view our latest news & updates, raise new ideas, find answers to common problems, ask new queries and speak to other Clear Books users and employees.