A payment on account for a customer can be added on the sales menu, however, you are currently unable to add this prior to your first reporting period.

This guide demonstrates how to add a temporary reporting period which will enable you to add a payment on account as an opening balance.

Step 1.

Navigate to the Settings > Accounting > Periods menu.


Step 2.

Add a start and end dates to include the date of the payment on account. Click on the Add button.



Step 3.

Navigate to Sales > Money in.



Step 4.

Fill in the details of the payment form and hit the Confirm button.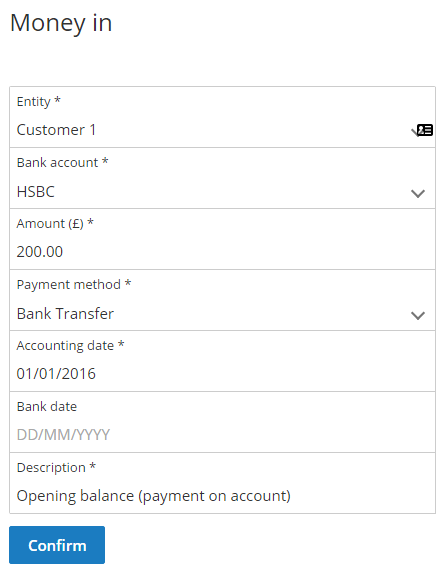 Step 5.

Navigate back to Settings > Accounting > Periods menu.


Step 6.

Delete the reporting period that you created in step 1.



Step 7.

Navigate to Dashboard > Getting started > Cash.



Step 7.

Adjust the opening bank balance to reduce the balance if appropriate and hit the Update button.