Clear Books is integrated with one of the UK's leading payment gateways, PayPoint.com PayPoint helps thousands of e-commerce businesses accept secure payments online and over the phone.
If you already have an account with PayPoint your customers can use the Pay Online button available on statements you send to them from you Clear Books account.
Use the following guide to set up the PayPoint Pay Online feature.
Step 1.
Navigate to the Money > Bank accounts menu.

Step 2.
Click on the Add Account button

Step 3.
Select a new Internet Payments account.
Step 4.
Select PayPoint as the Payment provider.
You will need your PayPoint account information for the Account ID, Account email, Remote Password and Digest Secret fields.
For the Show Payment Button field select Yes.
You will also need to add the surcharge for PayPoint as appropriate.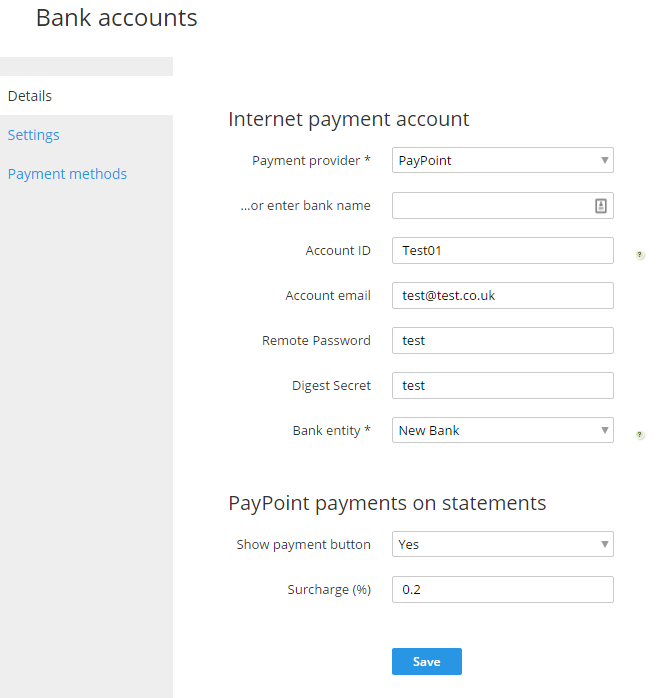 Once you have saved this information the PayPoint button will be available on your statements.
When a customer receives a statement from you they will be able to click the PayPoint button to then make an online payment directly to your account.
---
For additional help, click here to view all our training options.
Technical support is available on Monday to Friday from 9 - 5. You can call us on 0203 475 4744 or email us at support@clearbooks.co.uk.

Alternatively, visit our Community to view our latest news & updates, raise new ideas, find answers to common problems, ask new queries and speak to other Clear Books users and employees.