Importing bank statements is a quick and easy way of updating your Clear Books accounts with all bank transactions.
This guide describes creating new transactions from money paid into, or out of, your bank account. View other guides describing the matching of money in and out against sales invoices and purchase bills already on the system.
Step 1.
Navigate to the  Money > Bank accounts menu.

Step 2.
Scroll to the bottom of the page to the Imported statements that need explaining table. Click on the Explain link for the appropriate imported bank statement.
Step 3.
The system will automatically select the first unexplained transaction and so, if necessary, click on the link for the appropriate payment or receipt to explain. 
Step 4.
The Transaction tab of the explanation section will be selected by default. Fill in the required details of the transaction form.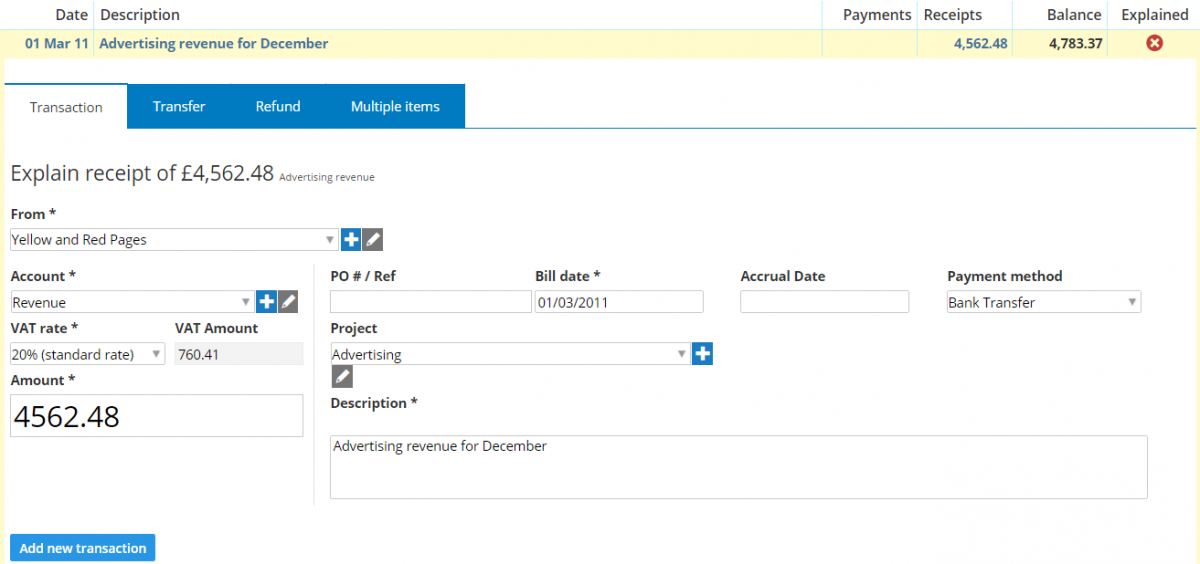 Nb. These details will automatically populate if you have already created an Import rule.  If there is no lookup rule there will be a link at the bottom of the form to create one.
Step 5.
Select the Add new transaction button to complete.
Once added the system will create a REC prefixed invoice for receipts and a PAY prefixed bill for payments.