From the HMRC website the Construction Industry Scheme (CIS) sets out the rules for how payments to subcontractors for construction work must be handled by contractors in the construction industry.
When a contractor pays a subcontractor, the contractor may be required to withhold a percentage of the subcontractor's labour charge. The contractor is then required to make a return of the subcontractors paid, and to pay sums withheld, to HMRC on a monthly basis.
The subcontractor can then get a credit for the sums withheld against their annual tax bill or against sums they are required to pay to HMRC for their own subcontractor payments or PAYE.
To enable the CIS feature in Clear Books navigate to the Settings > Configure system > Toggle features menu.

Once the Construction Industry Scheme is toggled on, seven CIS specific codes will be shown in the account codes list (chart of accounts).
You can navigate to the Settings > Accounting > Account codes menu to view the CIS specific accounts generated by the system.
Use the appropriate CIS Account Code when creating new invoices and bills.
You will need to add new subcontractors before being able to create a bill with CIS deductions (or edit existing suppliers to become subcontractors).
The CIS feature will also allow you to compile a CIS return and submit this directly to HMRC. The return will be populated by any payments allocated to the bills using CIS or materials accounts.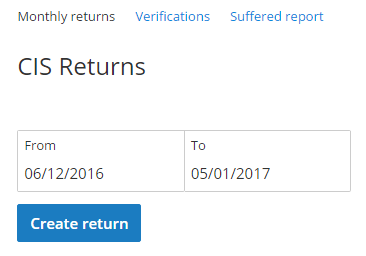 You will need to make sure all subcontractors are verified before you can submit the return.

Also, you will need to make sure all the details are filled in on the Settings > Organisation > Tax menu.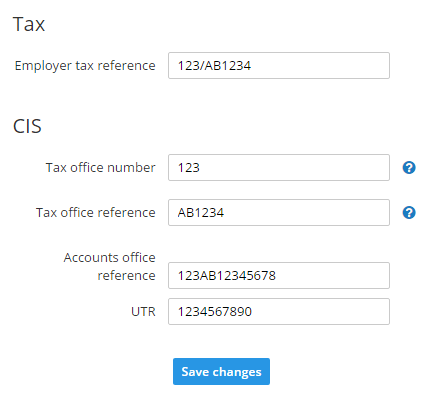 You can make payment to HMRC by explaining a payment from an imported statement or bill using the CIS creditor account.
Additionally, to this, you will also be able to compile a CIS suffered report showing CIS deductions on your sales invoices. This cannot currently be submitted directly to HMRC, although if you have an Open Payroll subscription you will be able to submit an EPS showing YTD CIS deductions from payments.
---
For additional help, click here to view all our training options.
Technical support is available on Monday to Friday from 9 - 5. You can call us on 0203 475 4744 or email us at support@clearbooks.co.uk.

Alternatively, visit our Community to view our latest news & updates, raise new ideas, find answers to common problems, ask new queries and speak to other Clear Books users and employees.