Step 1.
To restore an invoice navigate to Sales > Invoices

and select the Void filter:

Step 2.
Note that the Invoices are all prefixed VINV indicating they are voided.
Find the invoice to be restored  and, in the right hand column under Options, select Manage and then the Make a copy option: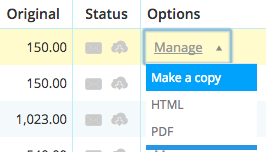 This creates a duplicate of the voided invoice.
Step 3.
Update any fields if appropriate and press the Save button to restore the invoice.
The invoice will now appear as Unpaid in  Sales > Invoices.