Step 1.
Select Settings > Organisation > Toggle Features.



Step 2.
Click the Invoicing & Expenses tab.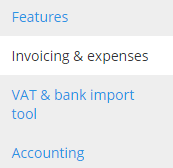 Step 3.
Tick the Discounts box.
Step 4.
When creating a new sales invoice enter an appropriate figure in the Discount % field.
Once the invoice is saved, a new item will be added to the invoice to reflect the discount.