Depending on the method of payment, Clear Books can display the appropriate payment details, or none at all, on Sales Invoices
Step 1.
Navigate Money > Bank Accounts and select the edit pencil icon against the appropriate Bank Account.



Step 2.
Fill in the Account Number, Sort Code, Cheques payable to and, if applicable, IBAN & SWIFT numbers, to be shown on invoices.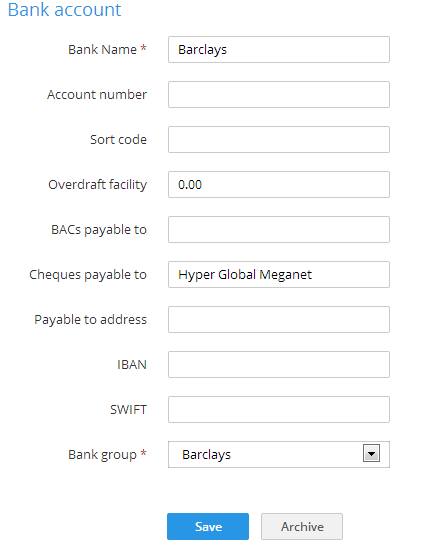 Step 3.
Navigate to Settings > Configure system > Invoice Themes and, via the Preferences link, select the Default Payment details for all invoices and select Save at the foot of the screen.


Step 4.
Head to Sales > Invoices  and select the Create Invoice button.
At the bottom of the invoice the default bank account, set in Step 3, will now appear in the Bank details to display drop-down. However, this can be changed but you must also have any other bank's details, set in Step 2, for that account's payment details to appear on the invoice.