By your staging date, you will need to assess your staff for eligibility to find out who to automatically enrol. Clear Books Payroll has a report that will assess your staff, enabling you to see who is and who isn't eligible. Please note, we assess using tax pay reference periods (starting 6th April) rather than regular wage periods (1st-31st).

Please note, if an employee already has a leave date set when your staging date arrives, you do not need to add this employee to a scheme so can forego assessing them.

Run the report in Clear Books Payroll:



From the Payroll navigation, select Pensions > Reports > Assess the workforce


Once on the page, select the payroll frequency (weekly, monthly etc.)


Select the specific tax period (month / week)


Select the tax year


Click the View assessment button


The report will run and the result will be shown on screen


What to do after you've run the report


Once you have run the 'Assess the workforce' report you need to identify which staff to automatically enrol and which have a right to join the scheme on request.

There are three classifications - 'Eligible jobholder', 'Non-eligible jobholder' and 'Entitled worker'. Below is a graphic which explains the different classifications.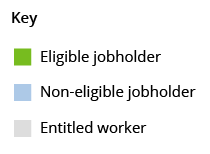 In the report, look at the last column labelled Category for each employee to see their classification. Clear Books Payroll will automatically update the Worker category field for each employee in the employee details form. However, you still have duties to carry out for each worker - actions to take are listed below.

For Eligible jobholders you have a duty to automatically enrol them into your automatic enrolment pension scheme and pay employer contributions.



By law you must enrol the employee into your pension scheme - this must be done directly with your pension provider. Please speak to them if you are unsure how to do this


Promptly send any information the pension provider has asked for


By law you must send communications to your employees to inform them that you are enrolling them into a pension scheme. Use this letter template for staff who are automatically enroled: http://www.thepensionsregulator.gov.uk/docs/Letter-template-for-employees-who-are-being-automatically-enrolled.doc


Add the pension scheme details for each employee into Clear Books Payroll so that we can calculate deductions on their payslip


In the employee details form set the Auto enrolment status field to Enrolled in qualified pension scheme



For Non-eligible jobholders you have a duty to notify them of their eligibility to join the automatic enrolment pension scheme. Those who provide you with a valid  'opt in' notice will need to be enrolled into your automatic enrolment pension scheme and you will need to pay employer contributions.

For Entitled workers you have a duty to notify them of their eligibility to join a pension scheme. Only those employees who provide a 'joining' notice will you then be required to enrol into a pension scheme (this does not have to be the automatic enrolment scheme) however, you are not obliged to pay employer contributions.