Step 1.
Navigate to Tools > Import > Overview.


Step 2.
Select Suppliers from the Bills column on the right hand side.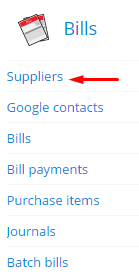 Step 3.
Browse for and select your file then click the Upload button.

Step 4.
Use the drop down menus to choose the right column headings for your data. If you don't need all the columns, choose "ignore" in the surplus ones. Click the Import button.

Step 5.
You'll see a list of all the supplier contacts available from your data source. Click Confirm All to import all the suppliers. Or use the tick boxes to choose one or a selection of suppliers. It's a good idea to untick any suppliers that are already stored in Clearbooks, to prevent duplication. When you're done, choose Confirm Import.