When using projects to invoice from different departments within a company, it may be helpful to use the name of the division on the invoice and alternate contact details. Add a separate phone number, email address, website and fax for each project.
Step 1.
Navigate Settings > Configure System > Toggle features > Invoicing & Expenses and toggle on Project Invoices.
Step 2.
Navigate to Tools > Projects.
Click on the 'pen' icon of the project that requires separate details.
Step 3.
Under the Project divisions header, fill in the details of the form and hit the Confirm button at the bottom of the menu.
Step 4.
Create a new customer invoice. Select the appropriate project with the changes that have been made to the contact details, from the Project drop-down menu.
After creating the invoice click on either the PDF or View button to view the invoice and make sure that the name and contact details have uploaded successfully.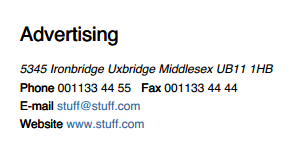 ---
Technical support is available from Monday to Friday, 9 - 5.
How to contact support within Clear Books
We also welcome you to visit our Community to view our latest news & updates, raise new ideas, find answers to common problems, ask new queries and speak to other Clear Books users and employees.